Indoor herb gardens provide fresh herbs to spruce up any meal, they fill your home with fragrance, and their greenery adds style to any space. Read on to find out how you can start your very own indoor herb garden and reap all the amazing benefits!
Pick the Right Herbs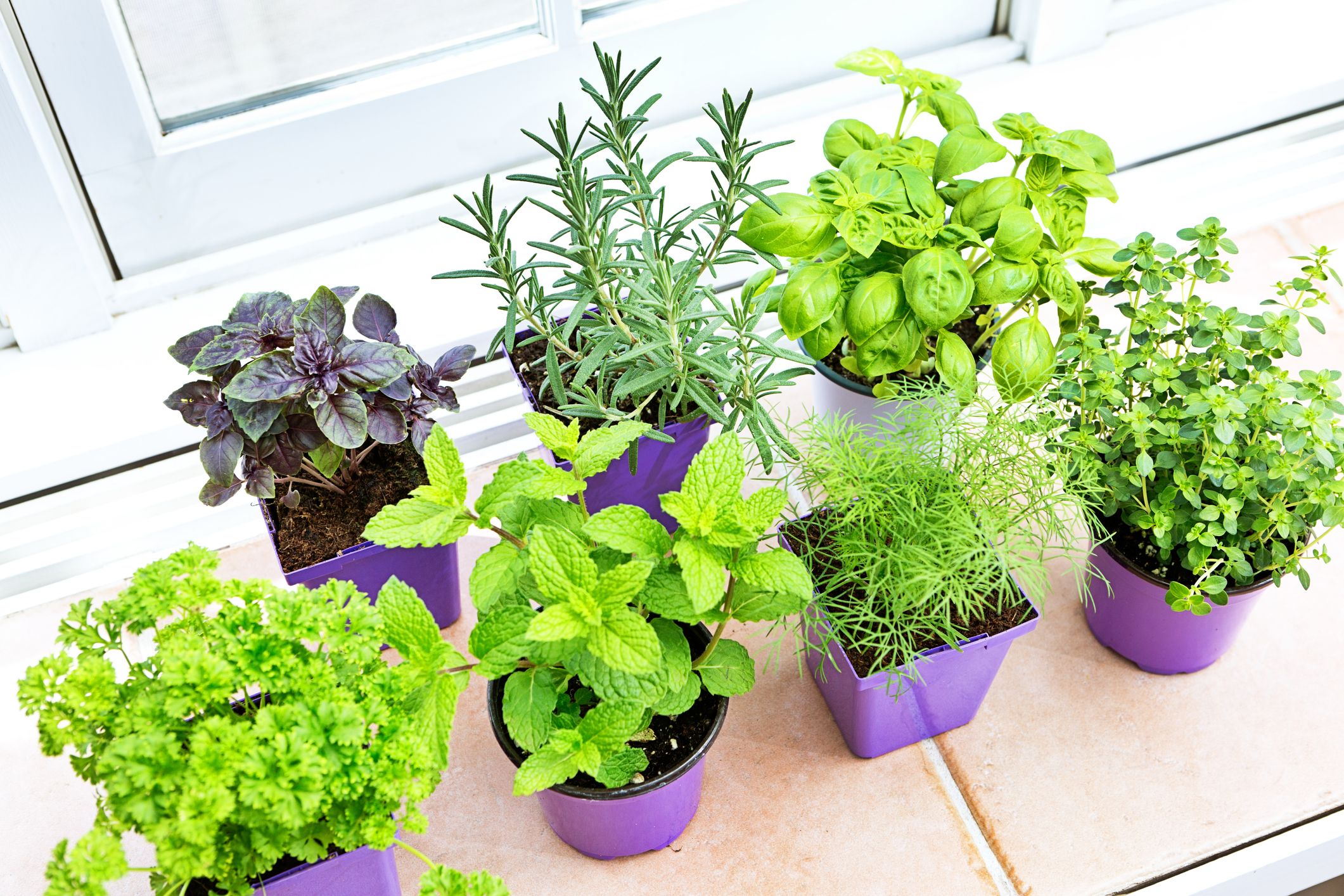 Although most herbs grow well indoors, it's still good to do a little research on the herbs you wish to grow. For example, basil is best grown at a constant temperature of 23 degrees celsius (75 F.), whereas other herbs can withstand fluctuating temperatures. If you're looking for no-fuss options, then chives, mint, thyme, rosemary, and lemon balm are good choices. For the easiest and fastest way to start growing your herbs start your indoor garden with seedlings from the grocery store or a garden shop.
Pick the Right Spot
Most herbs prefer a lot of sunlight, so you'll want to find a spot in your home that gets at least six hours of sun. For example, a south-facing windowsill is best for the most extensive selection of herbs, like rosemary, sage, and thyme, because it has bright light all day with intense sunshine around midday. However, if your home is north-facing or tends to get less light, then lemon balm and mint will thrive in shady places. Even if you don't have a windowsill, you can still grow a herb garden by mounting your herb garden on the wall or suspending it from the ceiling.
Care for Your Herbs
Now that you've decided on your herbs and the perfect spot, it's time to plant and care for your new indoor garden. Herbs can be planted in several types of containers as long as they have some drainage. Remember that the smaller the pot, the sooner you will need to replant it! Make sure to protect the bottom of the containers by using a saucer or round plastic protector, which can be found at garden centers. Once you're done, you need to water your herbs. However, you'll be surprised by how little water it takes. You always want to keep the soil moist, but not waterlogged. A small watering can or drizzle under the sink approximately once a week does the trick! If you see the leaves wilting or turning yellow, reduce the amount of water.
Harvest Your Herbs
Once your herbs are 4-6 inches tall, you can start to harvest them. It's essential to either harvest or pinch your herbs because it creates a more vigorous plant and keeps them growing for longer. To pinch your herbs, look over your plants about once a week and snip off the very tip of the growing stems to encourage growth and make sure the plants don't flower. Annuals like basil and cilantro will stop growing delicious leaves if they are allowed to flower! It's best to pinch and harvest with clean, sharp scissors and don't harvest more than approximately 1/3 of any given plant at once, so it has time to recover and continue growing.
So there you have it! A super simple way to save some money on spices, add flavour and nutrition to your meals, and freshen up your home! For more household tips and tricks, don't forget to read our blog.
Tags:
How to Start Indoor Herb Garden
,
indoor herb garden
,
indoor herb garden ideas
,
indoor herb garden tips