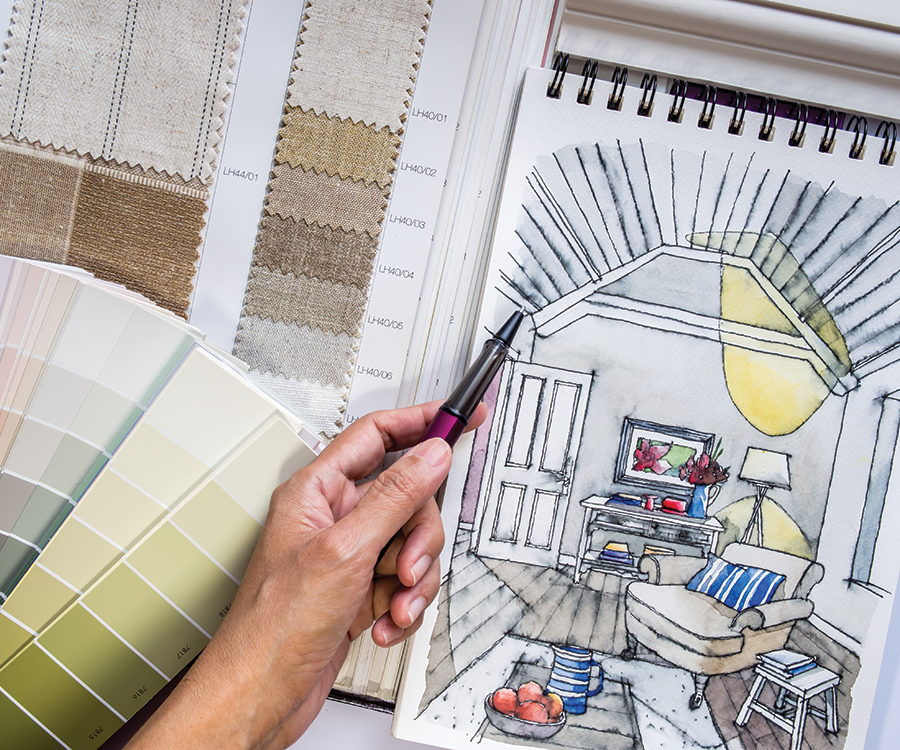 Buying a new home can be an exciting new experience for you and your family, and it provides you with the opportunity to design, decorate, and ultimately create the home you have always dreamed of. While some people choose to do all the interior decorating on their own, it is also common to hire an interior designer, taking all of the hard work off your shoulders. Before you decide which route to take, here are a few pros and cons to hiring an interior designer.
Pros Of Hiring an Interior Designer
Professional Work
The most advantageous aspect of hiring an interior designer for yourself is their professional experience in the field. Their knowledge, combined with their education and training in their position will ensure that the job is completed properly, within a certain time frame.
The Simplicity of Completing the Job
Hiring an interior designer can simplify the process of bringing your house to be exactly what you are picturing. After a long day of work away from your children, instead of having to do more work on your house, they will take care of the planning and organization of all the people involved in the process, and ensure that everything goes according to plan. This allows you to spend more quality time with your family.
A Different Perspective
Your perspective on how the interior of your home will appear is your choice, however, sometimes having a different take on it can be helpful. Hiring an interior designer will give you an extra set of eyes, and a professional opinion on what will or will not work, ensuring that your home becomes exactly what you want it to be, without any potential stress, or costly mistakes.
Access to Resources
Hiring an interior designer opens up the opportunity to tap into some of their resources. Most professional designers have connections that the general public might not have access to. The established connections they have to contractors, builders, and architects ensures that you receive some of the highest quality installations. Some interior designers also get special rates, which can make hiring a professional more cost efficient.
Cons of Hiring an Interior Designer
It Can be Costly
When budgeting for your home, the cost of hiring an interior designer can be an addition you may have overlooked. The average interior designer can charge a market cost of between 50 and 200 dollars an hour, so if you are planning a large renovation, it can be very costly.
It is Time Consuming
Although hiring an interior designer will allow you to spend more time with your family. The overall process of planning and designing can take weeks, or even months of working hand in hand with them. Because of this, your interior designer will be spending a lot of time in and around your home. If you do not feel comfortable with having someone you don't really know in your home, this might not be your best option.
There Will be Potential Disagreements
Despite the advantages of hiring an interior designer, they may not always see eye to eye with you, causing tension between the two of you. Before you hire someone, ensure that you are the type of person who will be open to suggestions and corrections on your vision, and always remember that they are making these suggestions in order to improve your idea.
Choosing an interior designer can be a wise choice, if you are open to them making suggestions, and if it is in your budget. Their professional opinion, and fresh perspective will not only allow you to spend more time with your family, but it will also ensure that your house becomes the home you have always dreamed of. For more information on the pros and cons of hiring an interior designer, visit the Falconcrest Homes Blog.
Tags:
Falconcrest Homes
,
Hiring an Interior Designer
,
Home Builder in Toronto
,
New Home
,
Professional Interior Designer
,
Why Should You Hire Interior Designer