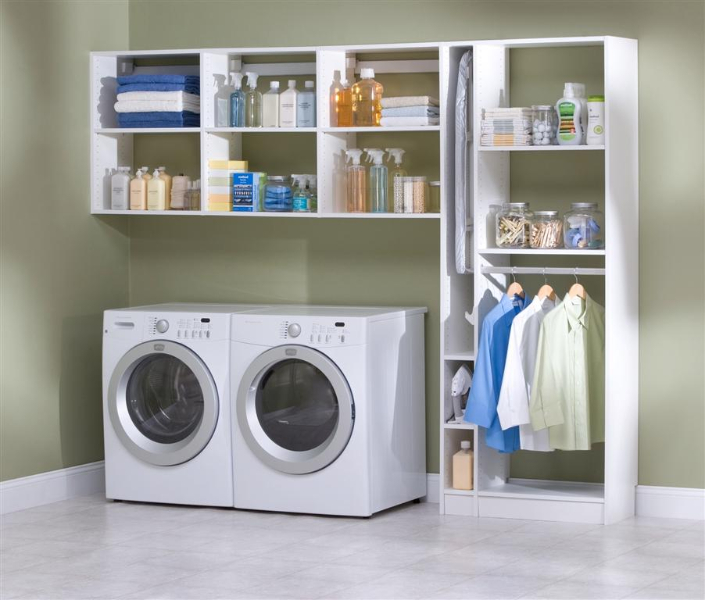 Part of upgrading your home, and staying up to date with the latest interior design trends is to make your laundry room the clean, organized space that you have always dreamed of. Here are some helpful tips to help you achieve this goal, and to help you get your laundry room updated to the next level.
Add Counter Space
Adding counter space to your laundry room will allow you to complete tasks like folding and sorting laundry without the stress of not having any space. Countertops over a side by side washer and dryer keep the room looking neat and tidy while providing a functional space for folding. If your laundry room is large enough, consider installing an island to increase the counter space.
Customize the Wall Colours

Add a fresh and bright feeling to the laundry room by customizing the colours of the walls. Adding a new coat of paint will make the space brighter, and more inviting, making the task of finishing the laundry seem less daunting. Using calming colours like blues and yellows will not only brighten the room up, but it will also improve your mood, and regulate your stress.
Hide the Supplies
Original boxes and bulky detergent containers can get in the way, and give your laundry room a messy look. Avoid the disorganization, and create custom-made containers for your detergents, bleach, and fabric softeners. Apothecary style jars will make your laundry room look neat and tidy, and will also create a comforting atmosphere. If you have enough cabinet space, take this step to the next level, and store all of your supplies behind closed doors.
Attach a Drying Rack to the Wall
There are many types of clothing that are required to hang instead of being thrown in the dryer. Make this task easy and efficient by installing a drying rack to the wall in your laundry room. These wall hanging drying racks are easy to install, and fold up when not in use, allowing you to have the space to complete other tasks. It's a simple yet chic solution to all your laundry hanging needs.
Install a Pull Out Ironing Board
Ironing boards can take up a lot of precious floor space in a laundry room and are not always easy to store. Save floor space, and avoid storage woes by installing a pull out ironing board. The ease of access and the convenience of knowing where it is will make ironing a task you look forward to completing.
Your laundry room should be a room that you look forward to spending time in. Follow these tips, and make your laundry room a bright and happy room for you to finish all your tasks. For more tips on updating your laundry room, visit the Falconcrest Homes Blog.  
Tags:
Declutter your Laundry Room
,
Falconcrest Homes
,
Home Builder in Toronto
,
Laundry Makeover
,
Laundry Room
,
Laundry Upgrade
,
New Home
,
Update Your Laundry Room