Halloween is a fun and exciting holiday that allows children to be creative, imaginative, and bold by dressing up and trick-or-treating door to door. With the thrill of the event, it is easy to forget about safety measures so, to make things easier, we have conjured up some Halloween safety tips for your kids!
Be as Visible as Possible
The costumes are ready, the makeup is done, and the kids are ready to head out to collect their favourite treats. Before going door to door, make sure you talk to your children about staying visible to traffic. For extra visibility safety, incorporate some element of reflectors or lights into their costume. Whether you put reflective tape on their ankles, light their bucket up with a flashlight, or give them glow sticks to wear, visibility is an important aspect of safety to remember on Halloween night.
Trick-Or-Treat Together
One of the most efficient ways to stay safe on Halloween is to go trick-or-treating in a group. Whether they go out with friends or you dress up as a family, staying in a group will ensure that they not only have fun but also guarantees that, if something were to happen, there would be someone there to help.
Ensure Costumes are Safe
Trick-or-treating is exciting, so being able to move around quickly without falling or tripping is important! Before heading out to collect candy, make sure that costumes are safe for going door to door. Double check the length of the costumes and make any adjustments that may be necessary. Try to avoid masks when possible or ensure that the holes are large enough to breathe through and see properly. This is also a good time to make sure that any makeup being applied will not cause a reaction. Double checking the safety of the costumes will guarantee a fun night of trick-or-treating without any problems.
Agree on a Planned Route
Before heading out, gather the family together to plan a specific route that you all agree on. Taking this step will ensure that if there is an emergency or urgent matter, it will be easy to locate everyone. It will also guarantee that no one gets lost along the way. This step is especially important if your children are going out with friends. Talk to them about the importance of knowing their whereabouts and the reasons why a planned route is so critical. Not only will this ensure everyone's safety, it is also a great opportunity for the family to bond while getting excited about the night ahead.
Inspect The Loot Together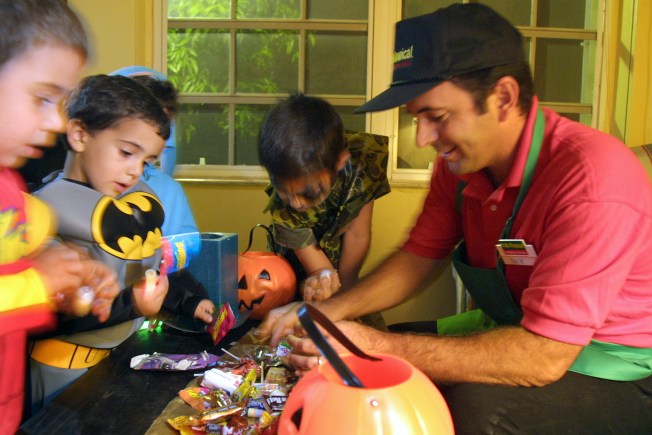 With the night coming to a close, and the candy all collected, it is time to start eating the fruits of their labour. To be safe, go through the candy together and inspect it to ensure nothing has been tampered with. Educate your children on what to look for, like an opened package or an unmarked treat. This is also a good time to go through the candy to ensure there is nothing that could cause a potential allergic reaction. Inspecting your child's candy before they eat it will ensure that everyone is safe and can enjoy their treats worry free!
Halloween is an exciting event for the whole family and safety is an important factor to consider. Planning an established route ahead of time, ensuring you are visible to traffic, and double checking that all candy has been inspected are only some of the ways that you can make sure that Halloween will be fun and safe for everyone. For more Halloween safety tips, visit the Falconcrest Homes Blog.
Tags:
Halloween Safety
,
Home tips
,
Safety Tips